Up at the crack of 10:00… We head out to search for some breakfast and a place to check our email. We are planning on driving down the icefields parkway today to Lake Louise, a trip we've made several times before, but one that is nonetheless quite lovely. But, first, we leave our slightly less than legal accommodations and head into town for breakfast.
We hit a restaurant/coffee shop that we've been to before, and we check our email and write to our Moms while we wait for our egg sandwiches and coffee. They look at us quite strangely when we order decaf. The lines in the coffee shop are horrendous, so we don't stay, taking our sandwiches back out into the bright morning.
There, on the street, we meet our bird-watching Tuktoyaktuk friends. These are two of the 4 other people on our tour to Tuk from Inuvik, and also the ones we saw when we were helping get the Dodge Charger out of the ditch on the Dempster. We have taken completely different routes (they have been to Edmonton in the meantime), but we have arrived in Jasper, Alberta at the same time.
We spend some time talking about travels and about where we might go next. They are from Victoria, and they give us their names and email in case we're ever there, and we do the same. Everyone has to come to Washington, DC, once, right? And, believe it or not, Vancouver is the only major city in Canada that we haven't hit. (Unless you count Saskatoon and Winnipeg.) They tell us that they stayed in the 700+ site campground (in their RV) and it was nice, but, we think they agree, a little pricey.
As far as the eye can see…

We crest a hill, giving a clear view for several km ahead and we see… an unending line of cars! Must… keep… calm…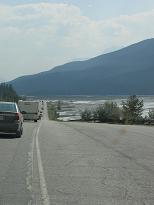 It looks like Banff and Jasper are trying, and succeeding, in approaching Yellowstone and Yosemite for quantity of visitors. Might we recommend the off-season?
Hi folks, we really do hope to get to Vancouver and Victoria some day.
So, after a chat with them, we pile back into the Jeep and bid a fond adieu to Rendezvous Jasper and the hordes of people there for the rodeo, and we hit the road. We stop about 2 feet out of Jasper in a horrendous traffic jam getting onto Icefields Parkway. How can that be? It's Jasper. The Icefields Parkway, not I-95.
We inch along, and finally we see that there's actually been quite a large accident at an intersection, and we shake our heads sadly. We're not in the Yukon, anymore, Toto.
We continue down the Parkway, at a decent speed after we pass the accident, and we find that people are going annoyingly close to the speed limit. There are people everywhere, in every turnout, lines of them on the road. Sigh. This really isn't the Yukon anymore.
A little way down the Parkway, we run across a herd of sheep in the road. We are distressed to see people walking right up to them to take their pictures or molest them. These sheep are more skittish than I would have guessed, being photographed and gawked at daily, I'm sure, but the people just keep coming. To try to give the sheep some room, we move on.
About midway down the Parkway is the Athabasca Glacier. We stopped here on our honeymoon, 10 years earlier, and the background on Stuart's first CD cover is the glacier. We have tons of pictures of us walking into the toe of the glacier, down into the crevasses. The teeth of blue ice were spectacular, and the whole thing was larger than life.
We stop there again this time, and even from the road we are astounded. The glacier has receded considerably from where it was when we were there in 1994, and the character of the toe of the glacier is completely different. Where it was 10 ft tall channels of ice before that a person could literally walk into, now it is a slushy, snowy slope that just ends at the ground. While the glacier is impressive, it's just not the same.
We suspect that years and years of allowing tourists to walk right up onto (or into) the glacier have taken their toll. Ten years ago, we were among 2 or 3 people at the glacier, taking pictures of ice formations within the crevasses, and a tour bus pulled up. By the time the 30 or 40 people had tromped around where we were, many of the more subtle serrations of ice were gone. Just 15 minutes of that many people made a huge impact. So, 100s or 1000s of people, day after day, are bound to have an impact over time.
Of course, this is to say nothing of the fact that most of the world's glaciers are receding at an alarming rate, without such proximate instigation. We mused sadly that any kids of ours would never see the amazing glaciers that we've seen on this trip. We highly recommend to any of our friends with kids that you take them now to see what might not be there in just 20 years, at this rate.
Anyway, we walk back down to the parking lot, but this time, true to our recent pattern, we have to go stick our feet into the glacial headwaters of the Athabasca River. This is cold like practically nothing else we've felt on this trip, and silty and grey-brown, to boot. We don't linger too long, lest we get frost-bite.
On the road again, we are in full reminiscing gear. This portion of the road we drove once in a blizzard (on our honeymoon) with me driving. (Be afraid, be very afraid.) I marvel as we go at what I remember and don't remember about it, ten years later, and in very different driving conditions.
Later in the afternoon, we pull into Lake Louise, which is a little townlet not very far north of Banff townsite. Banff and Lake Louise are the only towns inside Banff National Park, and they have very strict rules about what can and can't be there. Lake Louise is home to a lovely turquoise green lake, the Victoria Glacier, and Chateau Lake Louise, which started as a Ritzy hunting lodge, but is now a very ritzy Fairmont hotel.
We have stayed in various places in Banff and Jasper over the years, but we've never stayed at Lake Louise, for obviou$ rea$on$. They have a harpist in the lobby. Need we say more? But, we decided that this time, ten years from our first spectacular visit to Lake Louise, as quasi-grown ups, we would splurge, just this one night, and stay at the Chateau.
Go ahead, you know you want to…

We know what you are thinking: You would never stay at a five star hotel. Unless someone else were paying, of course. We completely understand; we are chronically cheap in that regard, though we spend money in other, equally insane ways.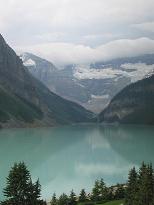 But just look at that lake view from the room!

Hey, put down that credit card bill!
I'm not so much of a fluffy towel person, but this place is really nice. We get a great odd-shaped room (the shape is worth a discount for some reason – I want it because it is the last room on the floor with high-speed internet and a lake view – priorities!). It has a king size, ultra plush bed, a fab view of the lake, high-speed internet (did we mention that?) and the Olympics on multiple channels. What more could we ask for? Oh, right. And, it has room service to deliver champagne to our room. Woo Hoo!
So, we take pictures of the lake, again, so we have views at all times of day, seasons, and weather, and now angles. We wander around and look in the shops. One shop has actual fossils and bones from prehistoric creatures, which I would have thought would be illegal to sell, but they do. So, we buy a trilobite fossil for my cousin/nephew, because how often do you come across a trilobite on vacation?
As we settle in for the night with our cheesecake and champagne (did I say we are living high off the hog? How about "that's gonna hurt in the morning"?), we start back to work on the web site and alternate paying attention to Michael Phelps go for another, oh, no, wait, another, oh and another gold medal. Life is good.