fuzzy butt, strong hands
eucalyptus on your breath
we love you, peter

---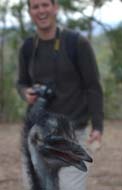 Our friend Abe (and the groom at the wedding) described Emus, noting the odd look that you find on an Emu's face. It must be said that Abe's resemblance to an Emu is almost uncanny.
It is good to have friends in far away places. They tend to know the best places to visit for a fun time.

More importantly, they are just good to have around, like all good friends.
On this occasion, our friends suggested that they knew a great place where you could hold a koala.

We suggested that we would be happy to drive, why were we not already leaving, time is wasting away, let's get on the road, c'mon, we have cameras, CF cards, batteries, what are we waiting for, let's move, people.
Which is to say, we were enthusiastic.
We went to Cleland Wildlife Park, which has all sorts of odd Australian things, as well as animals.

Of course, you all want to see koala pictures. But first, we need to tease you with pictures of Hahndorf.
Hahndorf is a pretty little tourist-oriented town, where we stopped for coffee, while we waited for koala-holding time to get closer. (You can only hold the koalas during a set period of time. There are koala labor laws to follow, not to mention the Kuddly Animals Union, Local 1539.)
We were really just hanging out with friends in Hahndorf, so we took few pictures. The most interesting would be those showing the brick-a-brack that often graces older houses in South Australia. Almost evokes New Orleans.
Finally with a sufficient dose of caffiene in our veins (they make great lattes all over Australia, by the way), we were ready to get to the park.
Ok, no more torture, we will start right off with the official pictures.
When you sign up to hold a koala, you buy one photograph. Thankfully, the photos are pretty good, except for those people who kept getting in there with the fuzzy and cute Peter Parker. And yes, you can be his friend on Facebook.
It should be noted that the setting of Cleland Wildlife Park is just as beautiful as the animals you can meet there. Naturally, we spent some time taking pictures of things, both large and small, that caught our eyes.
| | | |
| --- | --- | --- |
| | | |
| A tiny water droplet sparkling in tall grass. | Moody late afternoon sun highlights the gulf west of Adelaide. | Brilliant early evening light brightens a gum tree at the park entrance. |
And again, you probably ask, why do i care about tiny water droplets, moody light on some gulf, and/or evening light on a big gum tree when there are kangaroos, koalas, and a host of other cute critters?

Sorry...