The morning is beautiful and it looks like we have left some of the smoke behind. The lake is clear, cold, and inviting, so we wade into it, this being a new theme. After a brief two or three kilometer back-track to Twin Lakes for more pictures, we are on our way.
Somewhere along the line we discovered a magazine called "The Milepost". I should point out that we purchased The Milepost in Fort Nelson about three weeks ago, but it took us a couple of weeks to remember we had it and start reading it. Turns out to be quite useful.
The other side of The Milepost is that you end up reading about interesting stuff and adding to your itinerary, unless you are very disciplined. We are not disciplined. At all.
So, looking at The Milepost, Stuart sees a description of the Telegraph Creek Road side trip. It goes up a small dirt road to a tiny town called (not surprisingly) Telegraph Creek. The town was named for … well, you can probably figure it out.
Naturally, we add this side trip and set off out of Dease Lake. I get to careen down another narrow dirt road with Stuart holding on in the passenger seat, pretending to look nonchalant.
Stuart is trying to read The Milepost to figure out how far Telegraph Creek is from Dease Lake, but the hair-pin turns, washboards, potholes, and other road features are making this difficult. Finally, he determines that the trip is a whole lot longer than we intended. After some hesitation and general indecision, I manage to get us turned around. We add Telegraph Creek as return destination number 9,423,672—A on our list.
On the plus side, I have just driven this part of the road in the other direction, so I can take it even faster on the way back.
Back in town, we get gas and decide to get a bite. As far as we can tell, there is one place open in this strange run-down town of Dease Lake. Fortunately, the food is pretty good, but the building is really odd. It appears to have been a much larger store that is now cut up into several smaller stores, like a backwater mall. The post office is in one corner. The restroom is a closet off one edge of a big open space and sports no paper, which I fortunately notice before getting down to business, so I go to the Jeep and get a roll to contribute.
Smells like… victory…

When spending time in the remote outback, surrounded by bear, experts recommend leaving your deodorant at home. Everyone is getting stinky anyway. In theory, you will, at some point, stop noticing each other, though raising your arm to paddle may lead to fish floating upside down in the river along your boat.

One should note, however, that this olfactory ambivalence does not apply to Samaritans who stop to give rides. Further, a tightly closed vehicle is a serious liability for those giving rides when you have been in the back country for more than a week without a good scrubbing.

The dangers of hitchhiking. Don't say we didn't warn you.
While eating, we have our Americanus Uglius sighting. The café also sells ice cream, so a fellow and his wife park their motor home / land yacht and walk in to get a cone each. The husband asks if they take credit cards and is completely indignant to hear the answer "no". In case you missed it, he is buying two ice cream cones at about CDN1.25 each. The coup-de-grace comes when he insists on paying in US dollars and complaining about the exchange rate.
A few miles down the road, Stuart has his nose in The Milepost, looking for more interesting diversions when a tall guy waving a paddle steps out into the road in front of us. Without a whole lot of choice in the matter, we pull over and ask how we can help. It turns out he is at the end of a kayak trip and needs a lift up river to his vehicle. All of this is said in a pretty thick German accent, so Stuart asks whether he is from Germany or Austria (having been burned a couple of times for assuming an Austrian to be German… the nerve). Unbelievably, the German gentleman says he is Canadian and notes "I am living in BC for 5 years, now". Does a German/Canadian make for a person who would occupy his neighbor's land and apologize for it?
The German/Canadian fellow waits patiently for Stuart to re-arrange the back seat enough so a tall man can find a place to sit. All packed in together, we head off down the road and share some small talk. We drop him off as planned and continue toward the intersection with the Yellow Head Highway breathing more deeply.
Photographic Overload

When a pair of avid photographers drives through impressive scenery and takes no pictures, there is something wrong. (with this picture) Call it photographic overload. The technical term is probably "post photographic stress disorder", or PPSD.

So what is the cure? Apparently, it is a field of wild flowers and caterpillars. We drove for many kilometers without taking a single picture, but pulled over to take pictures of a bear in a field of flowers and ended up spending about an hour in that one spot.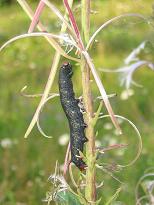 We asked this fellow about his hookah, but he remained tight-lipped.
Inevitably, we are now running low on gas, so we stop at Meziaden Junction, which is really nowhere. Once there, however, Stuart gets our bearings by spending some time digging through The Milepost. He turns to me and says "look at this", showing a picture of Bear Glacier. According to the book, it is a drive-up glacier on the road toward Stewart / Hyder. That's settled, we are going to have a look.
The book indicates the exact kilometer where we will find the glacier (as it does for everything of note), so as we get close, I start asking if we should pull over. We pass a sign for the Bear Glacier Day Use Area and I ask if I should stop there and, while Stuart is thinking, we crest a hill and I just gasp. Bear Glacier occupies the whole of your view. It is just stunning.
We stop and take many, many pictures. Looking at the lake that sits between the end of the glacier and the road, we see several blocks of ice floating around and wonder just how big they are—they seem quite small. Before I know it, Stuart has started over the edge down toward the lake. The trip down looks a bit tricky and is a little farther than we thought, but he makes it.
Conveniently, there is a small ice cube floating right by the shore, so Stuart goes to pick it up. Looks really are deceiving. Stuart can barely get the ice block part way onto the shore; it is about the size of a small oven (not a microwave either) and weighs a ton. So, instead of bringing me back a block of ice, he is able to break of a small piece and bring that back up the bank. Being just a tad silly, we put it in a plastic bag in the cooler. You never know, it might make it home!
Finally, as the light is fading, we turn around and head back toward the junction to go south. About this time, Stuart pipes up and reads something out of a guidebook saying that bear come to grab fish in plain sight of tourists, just outside Hyder. This reading habit of his causes no end of trouble.
Hyder… "A drinking village with a fishing problem."
as seen on a t-shirt in town.
Plans change again; we turn around. We decide to spend the night in Hyder, get up early, and go see the bear eat salmon.
Consulting the guidebook, it looks like there are a few hotel choices in Hyder, but we can only see one of them. Not being too picky, we decide to check the one place we can see for a room.
The locals are very outgoing here. In fact, on our way to the "front desk" (read: bar) a guy offers us a toke (not a Tok). After we get a room (away from the bar), we enjoy more local hospitality with a beer each. The owner tells what he knows about albino ravens (there is a picture on the wall), we all watch some of the Olympics from Athens, etc.
Then we start watching wildlife. There is one guy who arrives to play pool a few minutes after we get our beers. In the span of about 45 minutes, he drinks three tequila shots and four beers. I have no idea how well the game is going.
Does anybody really know what time it is?

On this trip, we have been back and forth between three different time zones: Mountain (Alberta and Northwest Territories), Pacific (Yukon and BC), and Alaska (do you need a list?).

The clock in the Jeep's radio is on Mountain time. Our phones, which are essentially travel alarms, are on Eastern time.

Here in Hyder, they add an interesting spice. Since they do everything else by Canadian standards, they use Pacific time, instead of Alaska time. Except at the post office, which uses Alaska time.

Confused yet? We sure are!
At this point, someone decides some music would be good and takes over the juke box. Apparently, their jukebox only plays Van Halen. With and without David Lee Roth.
Back outside, we go to move the jeep down to the double-wide that contains our hotel room. First, though, we decide to drive down a narrow road leading out of town. Just beyond the hotel, there is a sign with a weight limit and the road becomes all bridge and very narrow. With the lights on high beam, it is impossible to see the other end of the bridge. It just seems to go out into nowhere.
Stuart is, of course, excited, but this makes me a bit nervous. We finally come to what looks like the end of the bridge, where there is a turn-around spot and are no clearer on where we are, so we turn around and go back to the hotel room to crash. Hopefully, we will get to see bear tomorrow and find out what this bridge is.