Weather, on vacation, is rarely our friend. We can't complain too much on this trip, because we have had some beautiful weather, with lovely 70-80 degree temperatures and bright blue skies. Of course, we've also had 35-40 degree temperatures and grey, socked in skies with heavy rains. It's just that the timing of the rain is always... well... less than optimal.
Arctic Rush Hour

When the MacKenzie and Peel River ferries let out, you end up with knots of cars kicking up either dense mud or dense dust, depending on the weather. Ugh.
To be fair, what is optimal timing for rain? But, the rain and wind kept us from going to Herschel Island when we were in Inuvik, and it almost kept us from going to Tuktoyaktuk while we were there. It made getting to Inuvik quite a trick, as Stuart mentioned about the Arctic Slip and Slide that the Dempster becomes in the rain. Then, later in the trip, it becomes the smoke and not the rain that causes visibility issues... but we'll get to that later.
Road Conditions

On the way up, the rain made driving very difficult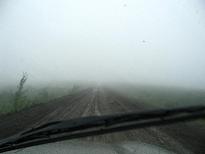 On the way back, quite the opposite turns out to be true. The road is dry enough that during one Arctic Rush Hour, I slow to 20 km/hr to give the dust from passing traffic enough time to disapate so that I can see!

But, hey, this road is not so bad at only 80 km/hr!
On our way out of Inuvik, the skies are bright and blue. It is a bit windy, but that we can handle. (I have spent a lot of time with my hair braided on this trip.) The drive back down the Dempster is almost comical, with a constant refrain of, "Did you see that on the way up?" Since we had only had visibility of maybe 100 feet off the road on the way up, sometimes less, we had missed a great deal of scenery, tundra, mountains, lakes, etc.
We find a great hill to hike up to take pictures of Campbell Lake from a distance, so we park at a pull-out about 1/2 a mile further and walk back. We scurry up the hill and take some pictures. The Lake is huge and breathtaking, and we begin to wonder why we didn't spend days canoeing there and camping... Ah, well. C'est La Vie. Next time. We head back to the truck, eventually, and as I'm dutifully putting my litter in the litter barrel at the pull-out, I notice an almost hidden boardwalk trail, leading away from the parking lot. We start up the trail (leave no trail unturned) and find that it winds up the hill. When we have followed it to the end, it leads to a beautiful, brand new lookout over Campbell Lake, complete with deck with built in benches. Who knew?
As we continue down the Dempster, we keep a more leisurely pace than on our way up. We stop to take pictures of the hills and terrain, and of the lovely lakes. We don't see a lot of birds or wild life on this leg of the trip, but it is very interesting to watch the geography change so drastically from tundra, where there are scrubby trees that grow no more than 10 feet tall or so, to low forests of pine and birch, to mountains with exposed stone peaks.
We stop at the place we stopped on the way from Eagle Plains to Inuvik the week before, but the view was quite different. I like to call these the misty mountains...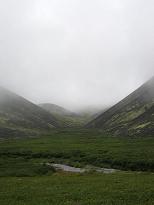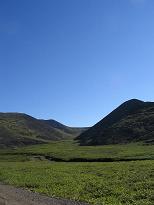 "Across the street" is an access road that leads up to a microwave tower. There are 14 microwave towers that have been installed from Dawon City to Inuvik to allow government workers, road crews, the park, and the Eagle Plains service cetner to be able to communicate with the outside world. There are no phones between Klondike River Lodge (mile 0 of the Dempster Highway) and Eagle Plains. The north half is practically crowded with Fort McPherson and Tsiigehtchic between Eagle Plains and Inuvik.
The top of the hill by the microwave tower is spectacular, yielding birds-eye views out over the velvety mountains and the single road curling like ribbon across the hills. The sun is slanting at pleasant angles down the hills and washing everything with beautiful light. The guide book we have for Yukon and Alaska explains that the rays of the sun are longer here, accounting for the fact that the light almost always looks like that beautiful 4-5 pm golden afternoon light.
You ain't from here...

Comically enough, on the way out of Inuvik, we almost forget to stop and get gas. The kid working at the gas station is wearing a Marquette t-shirt, so we ask if he went to school there. He says no. He is from Ontario, and his girlfriend is going to Ohio State. No one is from Inuvik, it seems. The woman who owns the Arctic Chalet went to school in Takoma Park (Maryland). The waittress we got to know at the Finto is from South Africa.
Unfortunately once we get into the Yukon, the microwave towers all have access barred, so we don't get any more microwave views. (I knew microwaves were useful, but I didn't know they improved views!) We guess that Northwest Territires believes you can go anywhere, so long as you don't get hurt. And if you do get hurt, don't call them. After all, we know it was ok to be there. There was a litter barrel at the top.
Despite the microwave tower, we do not have cell reception in Inuvik or anywhere on the Dempster. In fact, our cell phones have been little more than travel alarm clocks since Dawson Creek (three weeks ago...) The RCMP fellow we met in Fort Nelson carries a Satellite phone. We carry a CD with Satellite (Dave Matthews) on it.
When we pass Fort McPherson, we decide to putter through and see what it looks like when it's not a huge mud pit. We stop to see the graves of The Lost Patrol, a group of RCMP (actually, North West Mounted Police at the time) who were lost in early 20th Century winter snows while on standard patrols out of Fort McPherson. While we are visiting the cemetary, we take time to look around at some of the other graves. There is a headstone of a local Chief of the First Nations people there. On the back of his headstone, there is carved a sort of resume that outlines the contributions this Chief made. He worked on conservation efforts in the Northwest Territires and he was the representative for the First Nations people in the area, the Gwich'in, in land claims settlements.
There is a tour bus headed in the same direction, and we keep seeing the same fellow from the tour bus taking pictures. He always seems to be the only person getting out of the bus to look at anything and is out taking pictures of the graveyard at Fort McPherson when we arrive. I imagine the other people wondering what he is taking pictures of. It is an interesting contrast that we are taking similar picures, except that we are using two expensive cameras in two different formats and he is using a throw away camera. Since we keep running into him, we decide to be neighbourly and say hello again. (Note that we are in Canada, so we are "neighbourly", with a "u", not "neighborly".)
We pass the border of NorthWest Territires and the Yukon and stop to get a picture. From the Yukon border, we have an interpretive guide that we picked up at the Dempster Interpretive Center the week before. Because we were going so fast the first day, we hadn't bothered to read it, but it turns out to be a mile-by-mile listing of the cool things to see along the road, from the Yukon border to mile 0. We are finding the booklet incredibly useful and helpful.
We stop at the arctic circle, where there is a sign, and there is another guy who is already there. Stuart takes a picture of me at the sign, and still this guy is standing behind the sign, so all we really see are legs. We stand and talk (Stuart and I) for a few minutes, and the guy never moves or says a word. Very strange. Disembodied legs behind a sign. (I peak, and the rest of him is there...)
Looking at the view here at the Arctic Circle, the horizon looks a bit hazy and odd. It is almost brown. A few kilometers down the road, it becomes apparent that the brown haze is smoke from fires far out to the west of Eagle Plains. The smoke makes for an enjoyable sunset at Eagle Plains. We take pictures.
While we've gotten an early start (by our standards), we have stopped enough today and taken enough pictures that we still only just barely make it to Eagle Plains before the restaurant closes (at 9 pm), even with the addition of an hour when we change from Mountain Time in the Northwest Territories to Pacific Time in the Yukon. After dinner, we have to check in at the bar, and there are about 10 or 15 people in the bar buying cases of beer. They are all women, and they appear to be of varied ages. One heck of a party! We get our room and a six pack of beer (when in Rome, right?) and settle in for the night.